December 5th, 2018
We are so glad to recognize Mrs. Lorna Richards, our Dec-2018' Hunger-Fighter. On 2017 Mrs. Richards came to Poverello through the Urban League senior training program and with Mrs. Evelyn Hodges, she has filled every recipe with love and smiles. Thank you for cooking with love and joy for our volunteers and employees. CONGRATULATIONS!!!
November 30th, 2018
We have so many locations to drop your holiday food drive donations for 2018. Check out these great community partners: Georgie's Alibi Monkey Bar Lucky's Oakland Park CVS Pharmacy 5 Points MD Now Urgent Care (5216 North Federal Hwy, Fort… Broward Wellness Center Downtown Ride Element Oakland Park SunServe – Social Services South Beach Tanning […]
October 9th, 2018
I've been a long term client of Poverello. When I first became a client, I didn't realize that one day I would have the pleasure of finding out how rewarding it is to give back what was so graciously given to me. I think that the employees and the volunteers are all very special people […]
October 3rd, 2018
Dr. Leonie Wims our Acupuncturist in the Live Well Center…. CONGRATULATIONS!!!!    "Life's most persistent and urgent question is, What are you doing for others?" — Martin Luther King, Jr.
September 18th, 2018
For been with us today, every time we have you with us is a pleasant experience for our clients, volunteers and staff. "The best way to not feel hopeless is to get up and do something. Don't wait for good things to happen to you. If you go out and make some good things happen, […]
September 17th, 2018
The 2018 Bowling to Fight Hunger was a resounding success thanks to many in the community who came together at Sawgrass Lanes to Support Poverello's Eat Well Center nutrition and exercise programs. For some great photos of participants, check Our Facebook Page: https://www.facebook.com/Bowling-to-Fight-Hunger-to-benefit-Poverello-171112236376075/ Outclique: 9 8 18 Posted by Outclique on Sunday, September 9, 2018 SFGN: […]
September 13th, 2018
No other food pantry serving people with HIV in the US has better outcomes than our own Poverello Eat Well Center. For the calendar year 2017, our 2627 program participants had a viral suppression rate of 88.31%. Achieving viral suppression is the goal of all HIV therapy. We couldn't be prouder and have our staff, […]
September 4th, 2018
"What is the essence of life? To serve others and to do good." — Aristotle
September 1st, 2018
The best non-perishable foods to donate canned beans dry beans peanut butter rolled oats canned fruit in juice, not in light or heavy syrup canned vegetables, with no or low-sodium low-sodium soups canned tuna in water canned chicken brown rice quinoa nuts, unsalted seeds, unsalted shelf stable milk and milk substitutes whole grain pasta low-sodium […]
August 29th, 2018
2018 Student Affairs Expose & Involvement Fair – FIU at Panther Square, Wolfe University Center

2 d ago
Are you ready for our second location? Poverello Thrift Store volunteers, staff and faithful customers will welcome our Pompano Store this Wednesday 10 AM at our soft opening!
172 N Powerline Rd, Pompano Beach, Fl 33069 https://t.co/MvJN2e1xcg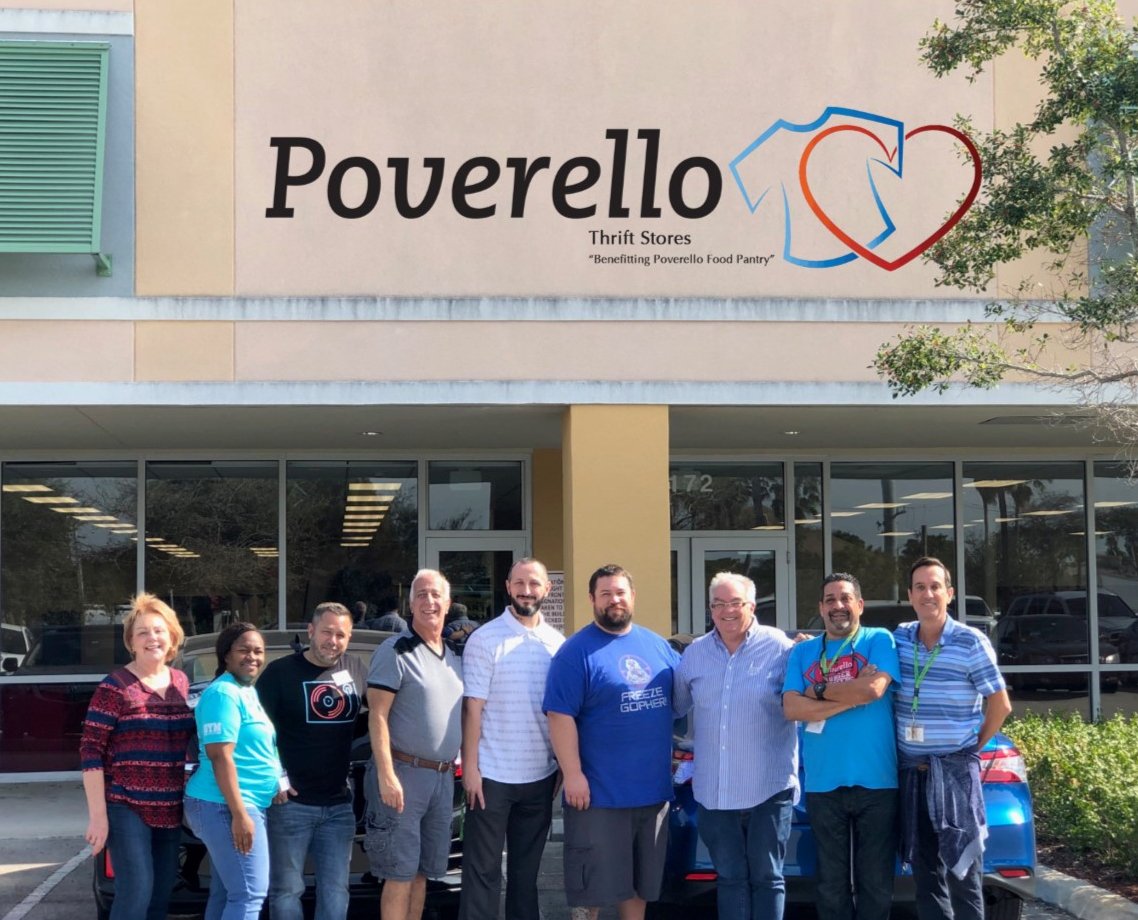 4 d ago
Suits, tuxes and jackets at our new store priced to move...see you Wednesday at 10 am!